So happy and proud to have been invited to two additional conferences this year.
Suffolk, Virginia – August 12. The Fourth Annual Mystery Conference hosted by the Suffolk Tourism Office. Besides meeting the authors, there are workshops (such as a Guide to Publishing, the Mystery Short Story and Female Detectives) as well as Panel discussions. I am on "From 17yh Century Weaver to 21st Century Chef.
On August 19, I am participating in the conference at the Mechanicsburg Mystery Bookshop 9:30 am to 2:30 am.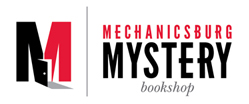 And, of course, I will be at Bouchercon Thursday, October 12 – Sunday October 15.
I will also be speaking September 9 at the Elm street bookstore in New Canaan, Ct on September 9 from noon to 2:30 pm.
Also at the Scattered Books Bookstore in Chappaqua, New York on Friday, October 27 from 5 – 7. Because of the proximity to Halloween, I will be speaking about witchcraft.
EVERYONE WELCOME!